See what Celebrities and Past Clients have to say about JD!

"This man, I love you I love you, I love you darling! I got to tell you something, I am so glad you repeated the ice trick. When people see it live, they go nuts! This is what I'm talking about this year with variety, we have unusual people and this man is a superstar! I love what you did! Great job!"
Howard Stern
America's Got Talent Judge Season 9
---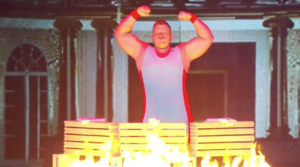 "This time, I not only loved your personality, but I loved the whole entire show that you put on for us! It was a proper show! That was GREAT!"
Mel B
America's Got Talent Judge Season 9
---
"That was phenomenal! Amazing! Amazing!"
Howie Mandel
America's Got Talent Judge Season 9
---
"Wow! What an awesome assembly. The students were so excited to see him perform.
JD spoke at a level that my students could relate to. His words of encouragement and hope about goals and dreams really got the students thinking. He expressed to the students that what they think about themselves is more important that what other think or say. He made several powerful statements to the students " A goal without a plan is a wish." and "If you are 1% better tomorrow than you were today by the end of the school year you would be 174% more awesome than the first day." We will be sure to ask JD back for more assemblies."
Tami Kester
Pineville Elementary Principal
---
"JD was awesome! He had such a positive message for our students. He was captivating and held the 1100 students attention for an hour. The students were coming to me at lunch asking to please bring him back to Pea Ridge High School.
He was motivating, positive and his "show" of strength was impressive. and fascinated our kids. He stayed after and visited one on one with a gym full of kids. It was a great day!"
Jon Laffoon
PRHS Principal
---
" JD was great at our Upward Sports Celebration. He captivated the whole crown and his message was right on point. Thanks JD!!"
Pastor Ben Scott
---
"JD absolutely owned the attention of every 7th and 8th grader in the room of 1100 students for our assembly. He wowed them with his strength and moved them with his heart and encouragement. I could not have been more pleased with the whole event. You really need to bring him in to entertain and challenge your group. You won't be disappointed!!!"
Chris Britton,
Student Pastor, Centerpoint Fellowship Church, Prattville AL
---
"The students and staff raved about the assembly; not only was JD able to capture the attention of all the students with his awesome feats of strength, but he also wove a positive message of doing your best in life between demonstrations."
Adam Lett,
Principal White Rock School
---
"JD Anderson is a captivating, dynamic, motivational speaker. He relates well to audiences of all ages and is an outstanding role model as well. JD brings his message of positivity and hope to life with his awesome feats of strength. We LOVE having him involved with our students!"
Angie Brewer,
Assistant Superintendant Mcdonald County R-1 school district
---
"JD is an extraordinary talent and exceptional young man. It was amazing to see him set the Guinness World Record for running through 13 THICK blocks of ice! The feats of strength he performs with the Power Team are an inspiration to many and he deserves a ton of credit for the positive influence he has had on today's youth. His hard head is matched only by his soft heart!"
Phil Lander,
Casting Director Guinness World Records Gone Wild
---
"J.D. Anderson is a high energy Christian performer that keeps his audience attention totally! J.D. uses playing cards, phone books, licence plates, frying pans and baseall bats in feats of strength that are amazing and mind blowing. One of the most energetic shows you can watch! He is AWESOME!"
Ben Cooper
Noel Jr. High School
---
"Having the Iceman at our school made for one of the best assemblies we've ever had! His amazing feat of strength or incredible, but his positive message to our students were even more amazing. I would recommend JD to any school to wow their student body."
Edie Bostic,
Principal Hannan Trace Elementary. Crown city, Ohio
---
"Bringing in JD Anderson for our school assembly created tons of energy and brought a powerful message to our student body. His message of making the right choices and staying away from drugs, alcohol, and bullying really hit home with our students. I would recommend every school have The Iceman come perform for their students."
Jeff Wilkie,
Principal McDonald County High School