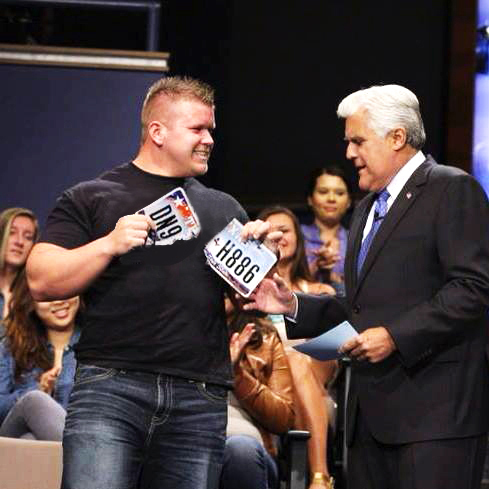 "Being in the position I'm in is truly the biggest honor one could have. Traveling the world entertaining and wowing people through feats of strength is great but the chance to impact peoples lives on a daily basis is what life is all about. The greatest thing you can make in life is a DIFFERENCE. There is no greater feeling than entertaining, putting smiles on peoples faces, and making a positive impact on them all at the same time."
Who is the "Iceman"
JD Anderson is 27 years old and grew up in the small town of Noel, Missouri. At an early age he learned that nothing would be handed to him and that if he wanted something, he would have to work for it. Doing manual labor most of his life, JD soon developed a work ethic that would soon separate him from the crowd. He began working out at 16 years of age, the same year, giving his heart to Jesus Christ.
Little did he know, the combination of the two would take him places and allow him to do things he never could have imagined.
Today, a six time world record holder and an expert in feats of strength, JD has traveled the world motivating and encouraging people of all ages in churches and school assembly programs. He has the privilege of leading and witnessing thousands give their heart to Christ. He has spoken in over 1,000 school assembly programs motivating students to hold on to their goal and dreams and to simply be the best they can be in life. His amazing speed and power allow him to perform feats of strength such as running through walls of ice head and shoulders first, bending steel bars in his teeth, ripping license plates in his teeth, rolling up frying pans in his bare hands, shredding phone books in half, bending solid steel horse shoes in his bare hands, ripping decks of cards in half in his teeth, breaking baseball bats in half, (over his leg, under his leg, behind his back, even over his head), smashing 1,000 lbs of ice with his head, bending nails in half, as well as breaking bricks with his head. JD also holds the Guinness World record for "The Most Ice Blocks Broken By A Human Battering Ram." His arms are a massive 20 inches around! JD has a bench press of over 450 lbs and can leg press 1500 lbs. He uses his abnormal size and strength to capture people's attention, to then only motivate them as well as deliver the amazingly simple, yet simply amazing message of the Gospel of Jesus Christ. JD's mission statement is "To reach the lost at all cost." He has learned if you can get people's attention, then you can preach a message of motivation and hope into their heart. His TV appearances include "The Daily Show with John Stewart" (Comedy Central), "Guinness World Records Gone Wild" (TruTV), Simon Cowell's "Red or Black" (London, England), "The Tonight Show with Jay Leno" (NBC) "The People's Award 2013" (Tokyo, Japan). Recently featured on "Americas Got Talent" ( NBC, Season 9), "Let's Ask America" (GSN) as well as Guinness World Records (Milan, Italy). Putting his body on the line for the entertainment of others, JD is known around the world as "The Iceman."